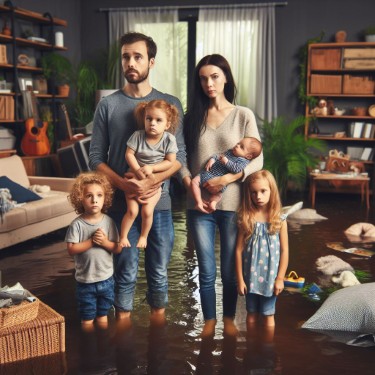 Seeking reliable water damage professionals in Jackson County? Well, look no further! Swept Away Restoration is here to help you. With over 25 years of experience, we pride ourselves on providing prompt and reliable service.
We understand the importance of personalized attention, so we answer our phones live and return calls promptly. Plus, we work with your insurance company, caring for all the paperwork.
Trust us to handle your water damage issues with expertise and care.
The Benefits of Hiring Water Damage Restoration Experts in Jackson County
When you hire water damage restoration experts in Jackson County, you can benefit from their knowledge and expertise in handling water damage situations. These professionals have the necessary skills to assess the extent of the damage and develop an effective plan for restoration. They're experienced in dealing with various types of water damage, from minor leaks to significant floods.
Experts in water damage restoration can offer the necessary services to return your home to its pre-damaged condition, regardless of whether a burst pipe, a roof leak, or a natural disaster has affected it. They've got the right equipment and techniques to thoroughly dry and clean the affected areas, preventing further damage, mold growth, and mildew.
What to Look for in Trustworthy Water Damage Professionals in Jackson County
To find trustworthy water damage professionals in Jackson County, consider their certifications and experience.
Look for professionals who've certifications in water damage restoration and are experienced in providing water damage services and water damage repair. A reputable company will have technicians who are certified by organizations like the Institute of Inspection, Cleaning and Restoration Certification (IICRC).
Not only that, it's important to consider the experience of the professionals. Look for companies that have been in the industry for a significant amount of time and have a track record of successfully handling water damage cases.
How Swept Away Restoration Stands Out as a Reliable Water Damage Restoration Company in Jackson County
Swept Away Restoration's commitment to providing reliable water damage restoration services sets them apart as a trustworthy company in Jackson County.
When you call Swept Away, you can expect prompt and professional service, with a response time of 1 hour or less. They prioritize customer communication, answering calls live and keeping you informed throughout the process.
As a company that works with your insurance company, not for them, Swept Away ensures a smooth claims process. They use state-of-the-art equipment and naturally derived cleaning products, including an antimicrobial solution that's 99.9% effective in killing mold, fungus, bacteria, and viruses.
Swept Away Restoration's thorough and meticulous approach ensures your home is dried, disinfected, and mold-free, giving you peace of mind.

Where To Find Premium Water Damage Restoration
As a final point, regarding finding trustworthy water damage professionals in Jackson County, Swept Away Restoration is the company you can rely on. With over 25 years of experience, prompt service, and a commitment to personalized attention, they prioritize your needs and ensure thorough restoration using eco-friendly cleaning products.
They'll have your home back to normal in no time. We're available 24/7 to rescue your home from flooding. Act now to reclaim your refuge; the best deal is a call away. Reach out to Swept Away Restoration today! In addition, you can check out customer reviews on Google.

Fill in for a fast response