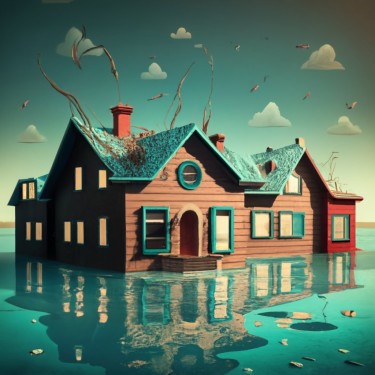 Encountering flood damage in your Ashland, OR, home can be perplexing and emotionally overwhelming. When deciding what to keep and what to throw away, making informed choices is essential.
Swept Away Restoration, your trusted experts in flooded house cleanup, water damage repair, and water damage services, are here to guide you on what items you should consider discarding after a flood.
1. Safety First:
Before beginning the cleanup process, ensure your safety. Turn off the power supply to the affected area to prevent electrical hazards.
2. Prioritize Personal Safety Equipment:
Wear appropriate protective gear, including waterproof boots, gloves, and a mask if there's a risk of contamination.
3. Document the Damage:
Document the extent of the damage with photographs or videos. This documentation can be crucial for insurance claims.
4. Porous and Absorbent Materials:
Porous materials like carpeting, padding, and upholstered furniture tend to absorb water and contaminants. They are difficult to thoroughly clean and should usually be discarded.
5. Drywall and Insulation:
Drywall and insulation that have been saturated with water should be removed. They can trap moisture, leading to mold growth.
6. Appliances:
Floodwater can damage the internal components of appliances. Consult a professional technician to assess whether they can be salvaged.
7. Personal Items:
Some personal items, such as paper documents, cardboard boxes, and fabric-based memorabilia, are often irreversibly damaged by water and should be discarded.
8. Electrical Components:
A qualified electrician should inspect electrical systems, outlets, and wiring exposed to water. They may need to be replaced for safety reasons.
9. Food and Medications:
Food and medications that have come into contact with floodwater should be discarded due to contamination risks.
10. Furniture:
Wooden furniture can often be saved if dried thoroughly and treated for mold. However, laminated furniture may not fare as well.
11. Rugs and Mattresses:
Rugs and mattresses can harbor moisture and contaminants, making cleaning difficult. They are often best discarded.
12. Inspect HVAC Systems:
Have your heating, ventilation, and air conditioning (HVAC) system inspected for damage. Floodwater can affect the ductwork and components.
13. Personal Protective Equipment (PPE):
Dispose of any disposable PPE used during the cleanup process safely.
14. Appliances with Motors:
Professionals should inspect appliances like refrigerators, washers, and dryers that have motors.
15. Dry, Clean, and Disinfect:
For items you decide to keep, ensure they are thoroughly dried, cleaned, and disinfected to prevent mold and bacterial growth.
16. Professional Assessment:
In some cases, it's advisable to consult professionals like Swept Away Restoration to thoroughly assess your flood-damaged property.
The partner you can trust is Swept Away Restoration.
Swept Away Restoration is skilled in efficiently drying water damage, including complex cases. Here's why you can rely on us:
We always have a rapid response team to address your water damage crisis.
Our team has received comprehensive water damage restoration training and is IICRC certified.
Advanced technology is utilized for our water extraction, drying, and moisture detection procedures.
Our mold prevention services address the issue and ensure a safe environment.

Contact Swept Away Restoration Today
In conclusion, deciding what to discard after flood damage in your Ashland, OR, house requires careful consideration. Swept Away Restoration is here to assist you in navigating the complexities of flooded house cleanup and repair, ensuring a thorough and efficient restoration process.
Your satisfaction and peace of mind are our top priorities. For expert mold removal and flooded home restoration services, call Swept Away Restoration. Alternatively, you can complete the brief form below, and a staff member will contact you. You can also look for customer reviews on Google.

Fill in for a fast response