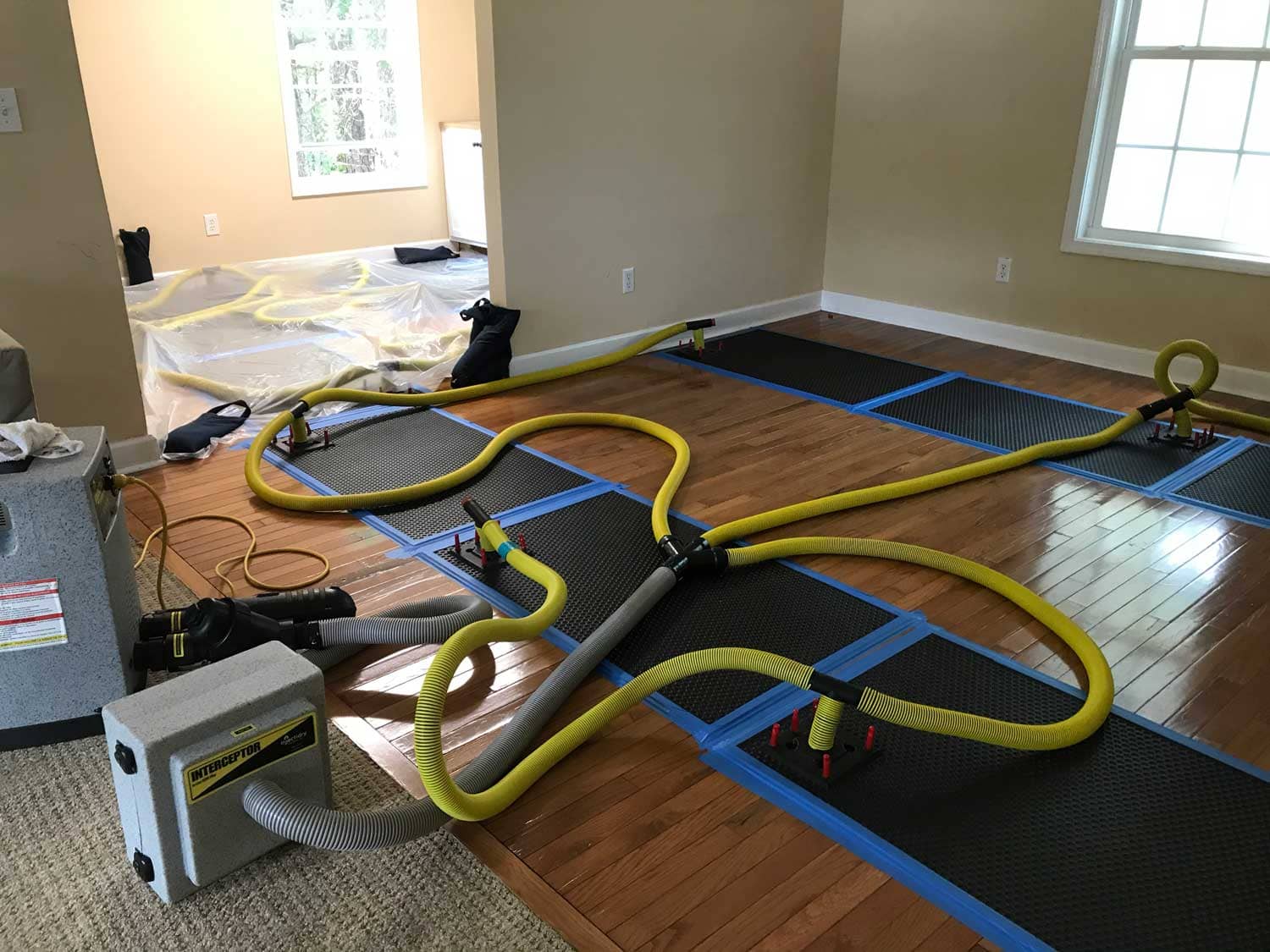 Each year, 20% of homes experience some level of water damage. While some are caused by flooding or leaky windows or roofs during heavy rain, 92% are caused by appliance or plumbing failures.
When this occurs at your residence or business, you require immediate assistance. Since water damage spreads over time, some items might be beyond repair if the problem isn't addressed within the first 48 hours.
Every day of the year, Swept Away Restoration offers water damage cleanup services with a 24-hour emergency response time. We use the most effective tools and techniques to completely dry your entire structure—not just your carpets—as quickly as we can. In addition, our service staff is skilled in water mitigation.
Flooded Home Repair Assessment and Evaluation
Each water damage instance is different, so removal strategies must be tailored. Standards define damage assessment criteria and restoration procedures. Water damage restoration requires these six steps.
This affects structure and content loss and requires site inspections, interviews, and measurements.
These results help Swept Away Restoration prioritize health and safety, mitigation, and restoration actions.
Categorization of Water in Water Damage
There are three different classifications for water: white, gray with some contamination, and black with significant contamination.
To properly restore and disinfect a damaged building, it is necessary to determine the extent of the water contamination.
Black water is more dangerous and should be dealt with first. Then, your home's damaged water will be classified, so an efficient removal and elimination plan can be developed.
Principles of Drying With Medford Flooded Home Cleanup Professionals
Every drying job entails the following four procedures. First, water must be removed before drying can begin. Drying is facilitated by combining the other three principles: evaporation, dehumidification, and temperature regulation.
Mold growth after water damage is preventable, but only if the humidity and temperature are carefully managed during the drying process.
Structure and Content Considerations
Damaged building components and contents are inspected to determine repair priorities. Basements and crawl spaces are particularly vulnerable to water damage during floods.
It can cause structural damage to your building by eating through insulation and damaging walls and floors. In addition, we will inspect your heating, ventilation, and air conditioning unit to see if the water has harmed it.
After the mitigation, a final inspection, including the completion procedures, is done. Confirming that the building and its contents are safe and up to code and that the work has been completed to the satisfaction of the owners are both crucial steps in the completion process.
Make sure you and your insurance agent are on the same page regarding the general policy provisions and procedures for restoring water damage.

Get Help From The Best Flooded Home Cleanup Professionals In Medford
In most cases, insured losses are broken down into three stages: mitigation, coordination, and restoration by certified water damage restoration professionals.
Swept Away Restoration work with most local insurance companies to avoid delays in insurance claims.
If you need emergency help for restoration and how to process your insurance claim, then you need experts. Contact Swept Away for a free estimate or speak to staff directly if you have an emergency.
Alternatively, you can fill in the compact form below for a staff member to be in touch. In addition, you can check our customer reviews on Google.

Fill In For A Quick Response