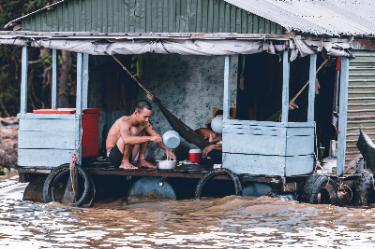 Water damage in your home can be expensive, especially if you need to renovate a sizable portion. Fortunately, you can do a few things to reduce the expense of your renovations.
Just a few valuable pointers are provided here. Some of them you can assist with, while others are better left to the experts in Medford. Water Damage Repair by Swept Away Restoration.

Trace the Leak Source
You must locate the leak's source first. This is crucial to deciding what to do with the damaged region. Before performing any additional repairs, you must fix the pipe leak if it is the source of the leak.
If the leak is coming from below-ground water, sump pumps must remove the water. Additionally, you want to look for any leaks or drain clogs.

Dry Flooded Areas Quickly
Dry the afflicted area as soon as possible to avoid mold growth before starting work.
Because mold damage might be more difficult to cure than water damage, you must consider this. You need to use fans and dehumidifiers to dry the affected area. If workable, you should also open any windows.

Clean Flooded Areas
Start cleaning up the area once it has completely dried. This is crucial because you need to remove any potential dirt or microbes.
To clean the region, you can apply antibacterial treatments to the surface or use a power washer. The last thing you should do is replace the flooring or the furniture. You can reduce the possibility of mold formation by doing this as soon as you can.

Check For Mold
It's crucial to search for any mold indications. As was previously noted, cleaning up the area as soon as possible is critical to avoid mold damage.
However, there may be mold patches on your property if the water damage lasts for an extended period if the affected area is large.
Before mold spreads, you need to remove any evidence of it immediately. Although it is risky, you can do this by using bleach or a mold-killing spray. Water damage repair professionals can handle this.
Contact Your Insurance Company
Finally, getting in touch with your insurance provider when the job is finished is crucial.
To let them know that the damage coverage is prepared. This is crucial since you don't want to spend money on things that your insurance will cover.

Swept Away Restoration, Medford Water Damage Repair Can Help
You should take fast action if a pipe in your house is leaking. However, since water damage can spread, the longer you wait, the more difficult it will be to address the issue.
You should contact a plumber immediately if you don't know how to handle plumbing repair or pipe. However, if you can fix it yourself, you can still use the above instructions.
Look no farther than our experience at Swept Away Restoration Medford if you're searching for a business specializing in water damage restoration in Medford.
After significant water damage, we are here to help you eliminate all potential leaks and mold growth on your property. So, call us immediately, and we'll take care of any leaks in your house immediately.
If you need emergency help for restoration and how to process your insurance claim, then you need experts. Contact Swept Away for a free estimate or speak to staff directly if you have an emergency.
Alternatively, you can fill in the compact form below for a staff member to be in touch. In addition, you can check our customer reviews on Google.
When you need a 5-star service? Then, you've come to the right place. In most cases, we can come running in less than an hour to offer flooded house damage restoration & carpet cleaning in Jacksonville, Medford, Jackson County, and Ashland.

Fill in for a fast response