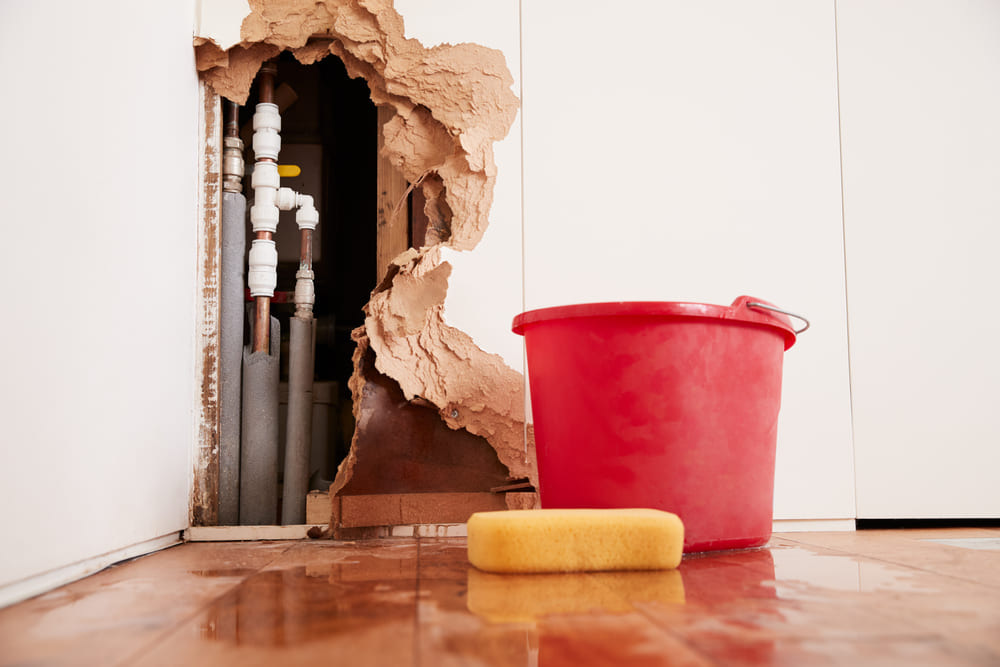 Avoid having to pay to fix any problems caused by water leaks. Recognizing the earliest warning signs of water damage can prevent you from making costly repairs or even evacuating your home.
There aren't always telltale signs of water damage. Often, these symptoms are so subtle that they go unnoticed for a considerable time—weeks, months, or even years. However, a homeowner should be on the lookout for the following symptoms whenever water is present before calling their local Ashland water restoration service.
Musty, Damp, or Moldy Odors Are A sign You Need Ashland Water Damage Repair
Musty, moldy smells are among the most distinctive. There is water damage somewhere, and the source of these odors must be located.
Mold and mildew thrive in damp environments, so eliminating sources of moisture is essential. Mold and mildew can grow on wet wood, drywall, and carpeting caused by a hidden leak.
It is far safer to have experts like Swept Away Restoration remove mold than try and do it yourself.
Unexplained Increasing Water Bill
Leaks in water pipes often go unnoticed for a long time because of their location. Water meters, however, will reveal any leaks that may be occurring.
When you turn off all the water sources, including the meter, and wait two hours, you can determine if there is a leak. You leak to locate if there is any motion.
It takes less than 48 hours for mold to set in after a water leak, so you need Swept Away Restoration fast.
Sounds of Running Water
Sometimes you can hear a leak even if you can't see it. Water can be heard dripping, spraying, running, or rushing, depending on the type of leak.
These noises are typical of a plumbing system that works as it should. However, whenever these noises shift or appear out of the blue, it's a red flag that something is wrong and needs to be looked into.
Cracking, Flaking, And Peeling Paint
If you notice paint or drywall flaking or cracking, it's likely because moisture is getting in and then drying out of the area repeatedly due to a leak. Peeling or bubbling paint or drywall indicates a persistent leak that will leave the surface damp.
If you notice watermarks on your ceiling, interior, or exterior walls, you likely leak, and water damage is already taking place.
Massive amounts of water can be released due to plumbing or appliance failures. Since water always seeks the path of least resistance, it will gather in the lowest possible area. As a result, water tends to pool in the kitchen and bathroom, which are incredibly close to the walls.
When would you like a five-star experience? You've reached the proper destination then. We provide water damage restoration and carpet cleaning services to Medford, Jacksonville, Ashland, and Jackson County residents.
How to Stop Water Damage
Before you can start repairing water damage in your home, you need to halt it. Otherwise, your efforts will be in vain. Consider the following:
Turn off the water and power to any appliances that aren't working.

As soon as you've identified the source of the plumbing problem, you should turn off the water supply to that area until the problem is fixed.

If the roof leaks, you can stop the water from entering your home by tarping the outside and storing it in buckets.

Close the main water valve if you can't find the leak's origin.
Electrical shock is a serious risk in areas where water is standing or rising. Turn off the power to your home at the breaker box if standing water is on the floor. If this happens at night or during the night, make use of flashlights, lanterns, or safely held candles.

Get Help From Water Damage Experts
This article taught you how to identify water damage and why you need water damage repair experts to fix your home.
Knowing what to look for can help you identify water and plumbing issues before they lead to costly repairs. Ignoring or failing to recognize the warning signs of water damage can result in extensive, expensive repairs to your home's structure.
If you need emergency help with a flood in your business or home, contact Swept Away for a free estimate.
Alternatively, you can fill in the compact form below for a staff member to be in touch. In addition, you can check our customer reviews on Google.

Fill In For A Quick Response