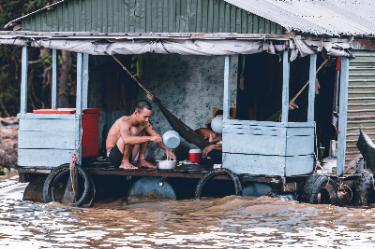 Storms can spring up at any time and cause significant water damage to many homes and businesses in the Jacksonville, OR, area.
As a leading water damage restoration company, Swept Away Restoration is here to help you navigate the often-complex process of restoring your property to its pre-loss condition.
The Importance of Quick Action and Flooded House Cleanup
The most critical step in the water damage restoration process is quick action. The longer water may sit, the more damage it will cause and the more difficult and expensive the restoration process will become.
If you suspect your property has been affected by water damage, it's crucial to call a professional water damage restoration company as soon as possible.
The Water Damage Restoration Process
The water damage restoration process typically involves several steps, including:
Inspection and assessment: A professional water damage restoration technician will scrutinize your property to determine the extent of the damage and create a plan for restoration.

Water removal: The next step is to remove as much water as possible from the affected areas. This may involve the use of powerful pumps and vacuums.

Drying and dehumidifying: Once the water has been removed, the affected areas must be thoroughly dried and dehumidified to prevent mold and other secondary damage.

Cleaning and sanitizing: Any surfaces that have come into contact with water must be cleaned and sanitized to prevent the growth of harmful bacteria and other microorganisms.

Restoration: After the affected areas have been cleaned and sanitized, the last step is to restore your property to its pre-loss condition. This may involve repairs to walls, floors, and other structures and replacing any damaged personal property.

Trust the Jacksonville Water Damage Professionals at Swept Away Restoration
At Swept Away Restoration, we understand how overwhelming and stressful the water damage restoration process can be.
We're committed to providing our customers with the highest service and expertise. Our team of certified water damage restoration technicians has the knowledge and experience to handle even the most severe water damage situations.
Don't let water damage ruin your property and disrupt your life. Call Swept Away Restoration today to schedule an inspection and assessment.
If you have experienced water, our teams are ready to take your call.
Alternatively, you can fill in the compact form below for a staff member to be in touch. In addition, you can check our customer reviews on Google.

Fill In For A Quick Response