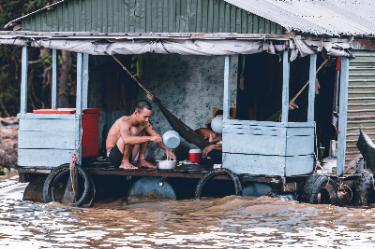 A sewage overflow that causes flooding in your home is a nightmare. Water damage is a problem that no one wants to deal with, not just because it's an emergency but also because it's a hassle.
However, it is essential to be prepared if you ever find yourself in this predicament. This article will be a helpful reference in case of a flood in your house. Last, it is best to keep the number of your local Medford water damage cleanup services nearby.
Prioritize Risk Avoidance Or Safety First
Make sure you and your loved ones are safe primarily. Sewage contamination in the water supply is a significant health danger.
If you must come into touch with the water, wash your hands afterward and try to avoid it as much as possible.
Don't Ignore The Problem
Verify that the root cause of the sewage backup and the flood are fixed. The last thing you need is for the flood to return while you're still cleaning up or trying to get back on your feet.
Quickly contacting Medford water damage cleanup services will allow you to have them assess the cause, determine its source, and implement a solution to ensure the problem does not recur.
When you need a 5-star service? Then, you've come to the right place. We offer water damage restoration & carpet cleaning in Medford, Ashland, Jackson County, and Jacksonville.
Contact Insurance Provider
Get in touch with your insurer and give them a rundown of what's transpired. They will tell you what to do next and may even pay for some or all the repairs out of their pocket.
Make with them for guidance on the claims process and do what they say. Swept Away Restoration deals with many insurance companies, so claims stand a good chance of being settled.
Take Pictures Before And After Medford Water Damage Cleanup Services
Take as many pictures as you can of the flood destruction. Insurance claims and police reports will benefit from having this information to hand.
Be careful to do everything, including the incident's origin and the damage to your property.
Hire Medford Water Damage Cleanup Services
After everything you've been through, you could clean the home independently, but we recommend hiring pros. Notifying them of the emergency will allow them to correctly prepare and bring the supplies.
After figuring out what can and cannot be salvaged, it's time to call the professionals for water damage restoration. They ought to handle it. Please don't get your hopes up; the water damage is often too much for them to handle. Nevertheless, it would help if you tried it out.

Get Expert Help From Medford Water Damage Cleanup Services
If possible, endeavor to stay out of this predicament. Always make a high standard of care for your plumbing. Having a backup copy of your documents and an emergency kit you can grab if the floodwaters rise is also a clever idea.
Containing a sewage backlog can be a significant hassle. It is not just risky but also unpleasant and infuriating. However, if you follow these instructions, you should be able to reduce the disruption caused by a sewage backup and return your home to normal more quickly.
Contact Swept Away for a free estimate or speak to staff directly if you have an emergency.
Alternatively, you can fill in the compact form below for a staff member to be in touch. In addition, you can check our customer reviews on Google.

Fill in for a fast response