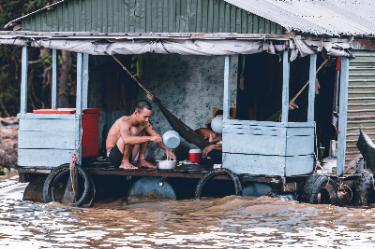 A water leak developed in the water lines below the concrete foundation is known as a "slab leak."
Long-term corrosion, abrasion, foundation shifts, high water pressure, and poor installation frequently lead to these water line leaks. However, any point can be the origin of a slab leak.
Don't disregard a slab leak. The more extensive and costly the water damage will be, the longer you wait. Instead, get help from Jacksonville flooded house repair professionals, in either case, to make sure there isn't mold or additional damage.
When you need a 5-star service? Then, you've come to the right place. In most cases, we can come running in less than an hour to offer flooded house damage restoration & carpet cleaning in Medford, Jacksonville, Jackson Country, and Ashland.
Puddles of Water
This is one of the most common slab leak signs. Do you occasionally see standing water or puddles of water on the floor in your basement?
When water leaks beneath the surface of the wall or floor, it pushes water through the walls, tile cracks, and floorboards, causing puddles of water to form on the floor.
Finding concealed water leaks near the foundation, behind walls, on the roof, or in the basement walls requires a specialist such as Jacksonville flooded house repair experts from Swept Away Restoration.
Musty Odors Need Jacksonville Flooded House Repair
Water damage is almost always the result of slab leaks. When oxygen, moisture, and food sources are present, even tiny water pools between the walls, beneath the floorboards, or in concrete cracks can encourage mold growth.
Until you smell the musty, organic odor, the growth of mold and mildew goes unnoticed. However, the mold and likely leak sources can be found using the foul smell as a guide.
Suppose you suspect a possible mold infestation under the slab or between the walls is causing any allergic reactions or discomfort. In that case, contact Jacksonville flooded house repair experts to fix leaks and eliminate hazardous mold.
Warning Sign #3: Sounds of Running Water
Listening to running water can help detect a slab leak. For example, you may hear running water when a pipe bursts or a major leak under the foundation.
Flooded house repair experts can find and fix a leaky house location. Increasing Water Bills
It's a good idea to monitor your water usage each month. Your monthly water bill may spike if there is a water leak in your home. Leaking in a slab can increase your water bill significantly.
Slow water leaks may increase your bills in increments, but you'll see the trend. To be sure, have your home given a check from experts such as Swept Away Restoration.

Get Help To Fix A Slab Leak With Jacksonville Flood House Repair Experts
Slab leak and repair specialists should be contacted if you suspect you have one. Before you rip up your concrete slab, you must know where the leak is.
Professional flooded house repair experts can pinpoint leaks using various methods and recommend fool-proof ways to fix them.
Besides this, if you can claim, Swept Away Restoration works with insurance agencies, so your claims can be settled without too much upset.
If you need an emergency Water Restoration Service or water damage restoration to remove mold from your home, contact Swept Away Restoration for a free estimate.
Alternatively, you can fill in the compact form below for a staff member to be in touch. In addition, you can check our customer reviews on Google.

Fill in for a fast response