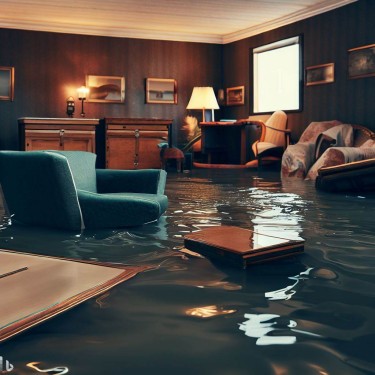 Facing water damage in your Ashland, OR home, even if it's minor, can leave you with a dilemma: should you file an insurance claim or handle the repairs yourself? Swept Away Restoration, your trusted experts in water damage repair, water damage services, and cleanup, is here to help you weigh the pros and cons of filing an insurance claim for minor water damage.
Pros of Filing an Insurance Claim:
1. Financial Assistance:
Filing a claim can provide financial assistance to cover repair costs and wildly unexpected expenses.
2. Comprehensive Coverage:
Insurance policies often cover the cost of repairs and related expenses like temporary housing if your home is uninhabitable.
3. Peace of Mind:
Knowing you have insurance coverage can provide peace of mind during uncertain times.
4. Expert Assessment:
Insurance adjusters can professionally assess the damage, ensuring that all necessary repairs are covered.
Cons of Filing an Insurance Claim:
1. Deductible:
You'll need to pay the deductible before your insurance kicks in, which might not be cost-effective for minor damage.
2. Premium Increase:
Filing a claim could increase your insurance premiums, which could be more costly in the long run.
3. Claim History:
Frequent claims can negatively impact your claim history and make it challenging to find affordable insurance in the future.
4. Time-Consuming:
The claims process can be time-consuming and require approval before starting repairs.
5. Policy Limits:
Your insurance policy may have coverage limits, affecting how much assistance you receive.
Factors to Consider:
1. Cost of Repairs:
Assess the cost of repairs compared to your deductible. If the cost is close to or lower than your deductible, paying out of pocket might be more cost-effective.
2. Future Premiums:
Consider the potential long-term impact on your insurance premiums and whether it outweighs the immediate benefit of filing a claim.
3. Extent of Damage:
Evaluate the extent of the damage and whether it poses health or safety risks. Some minor injuries may not warrant a claim.
4. Consult Your Agent:
Speak with your insurance agent to understand the specific terms of your policy and how a claim might affect your coverage and rates.
5. Professional Assessment:
Seek a professional assessment from experts like Swept Away Restoration to determine the extent of the damage and the most cost-effective solution.
Why Swept Away Restoration is Your Trusted Partner
Swept Away Restoration understands the complexities of water damage and the importance of making informed decisions. Here's why you can rely on us:
Prompt Response: Our team understands the urgency of water damage situations and is available 24/7 for immediate assistance.
Comprehensive Restoration: Besides repairing the damage, we offer complete restoration services to restore your property to its pre-damage condition.

Contact Swept Away Restoration Today
In conclusion, the decision to file an insurance claim for minor water damage in Ashland, OR, should be based on careful consideration of costs, benefits, and long-term impacts. Swept Away Restoration is here to assist you in navigating the complexities of water damage repair, ensuring a well-informed choice that suits your needs.
Revive Your Space Today! Contact Swept Away Restoration for premier water damage repair. We're available 24/7 to rescue your home from flooding. Act now to reclaim your refuge; the best deal is a call away. Reach out to Swept Away Restoration today! In addition, you can check out customer reviews on Google.

Fill in for a fast response