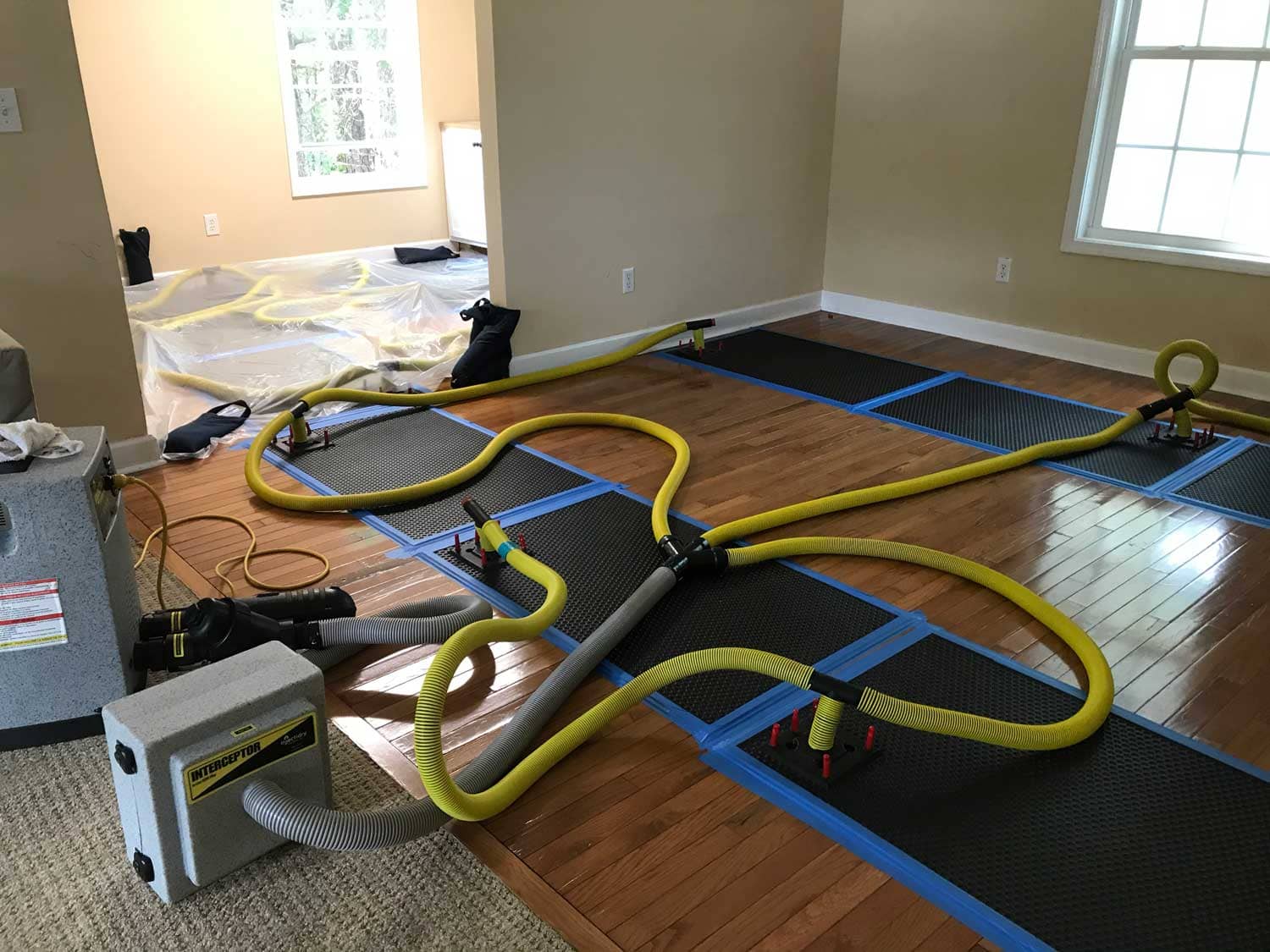 For several reasons, a home's basement is the place that floods most frequently. First, basements are easily flooded by heavy rain and natural flooding because of seepage and foundation flaws.
Non-natural flooding from burst pipes, sewage backups, and significant leaks from the water heater or washing machine can cause flooding in basements.
The flooring, construction materials, and possessions in your basement sustain significant damage from extensive basement flooding, which can also lead to mold or mildew that is harmful to your health.
Once this happens, you'll need the help of Medford flooded house cleanup experts. Here are the key steps companies like Swept Away Restoration follow.
Find The Flooding Source Before Medford Flooded House Repair
Finding the cause of the basement flooding and stopping more water from entering are the first steps.
Once the cause has been identified, the Swept Away restoration experts repair it and create a restoration strategy based on flooding and damage.
If the flooding involves sewage or other biohazardous items, these experts will take the action and safety precautions.
Inform Your Insurance Provider
The insurance coverage for flood damage varies and depends on several variables, including the reason for the flooding.
Restoration experts inform your insurance carrier of the damage and their findings to determine coverage alternatives. Swept Away Restoration work with many local insurers, so your claim can be hassle-free.
When you need a 5-star service? Then, you've come to the right place. In most cases, we can come running in less than an hour to offer

flooded house damage restoration & carpet cleaning in Jacksonville, Medford, Jackson County, and Ashland.
Launch the Medford Flooded House Cleanup
After assessing the damage, reputable restoration businesses work on the water damage restoration. After the initial assessment, you shouldn't have to wait several days before the restoration starts.
Water Removal
Dehumidifiers and other equipment mounted on trucks are used by specialists in flood damage repair to remove standing water and moisture from damaged materials, such as flooring, furniture, and other items. These experts also fix any harm that the extra water may have done.
Baseboards, Sheetrock, and Insulation
Small amounts of water can be absorbed by sheetrock and baseboards, leading to swelling or buckling. This may impact both the insulation and the wall frame. Professionals in restoration will remove these items and salvage what they can.
Disinfection and Cleaning
Flood water probably contains pathogenic germs, and their presence can promote the growth of mold. Therefore, restoration specialists employ innovative cleaning chemicals to thoroughly clean and disinfect the area and flood-damaged objects after removing the water.
Drying Flooded Basements
Restoration specialists use innovative drying technology to dry the wet objects once the floodwater has been removed.
They install dehumidifiers, air scrubbers, and air movers around the afflicted region to remove toxins and odors from the air. The drying process takes approximately 3-5 days.
Mold grows because of basement flooding frequently. Reputable restoration businesses look for mold and provide mold treatment services if a problem arises.

Flooded House Cleanup Needs Medford Water Damage Experts
The repair specialists will examine the structural damage after the basement has been cleaned and dried, and they will collaborate with your insurance provider to develop a reconstruction strategy.
After a quality restoration process, your basement will be returned to its original state. If you descend the stairs in your home and find a flooded basement, call Swept Away Restoration for flood damage cleanup immediately.
Any hesitancy increases the likelihood of mold or mildew growth by allowing the water to seep deeper and further into the damaged components.
If you need emergency help and want your home back to a livable condition, contact Swept Away for a free estimate.
Alternatively, you can fill in the compact form below for a staff member to be in touch. In addition, you can check our customer reviews on Google.

Fill in for a fast response