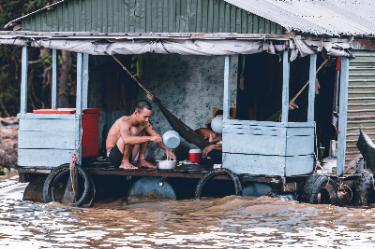 Home flooding can be a devastating experience for homeowners, especially in areas like Jacksonville, where severe weather is not uncommon. Regarding flood cleanup, seeking safe and effective restoration services from professionals with the right skills and equipment is essential. One such company that stands out is Swept Away Restoration.
Swept Away Restoration offers a comprehensive range of flood restoration services catering to all residential properties affected by water damage.
Whether it's a minor water leak or significant flooding caused by natural disasters like hurricanes or tropical storms, Swept Away Restoration has got you covered.
With our reliable services available 24/7 year-round in Jacksonville and surrounding areas, Swept Away Restoration should be your go-to choice for home flood cleanup needs.
The Dangers of Improper Home Flood Cleanup
Improper home flood cleanup can lead to some dangers. For instance, mold and mildew growth in flooded areas can pose serious health risks like allergies, asthma attacks, and other respiratory illnesses. The stagnant water left after a flood can also become a breeding ground for bacteria and viruses to cause diseases.
Besides health risks, improper home flood cleanup can also lead to physical hazards. Floodwaters may have weakened the structure of your home or damaged electrical systems leading to potential fire hazards. Slippery floors and unseen debris may cause falls or injuries during cleanup efforts.
Swept Away Restoration: Your Partner in Home Flood Cleanup
Swept Away Restoration is a reliable partner in the home flood cleanup. With years of experience in the industry, they have developed a comprehensive approach to water damage restoration that ensures your property returns to its pre-loss condition as soon as possible.
Our experts has built a reputation for providing high-quality services and is ready to give you the solutions you need.
Regarding home flood cleanup, time is of the essence, and Swept Away Restoration understands this better than anyone else.
They offer 24/7 emergency services, help will be available whenever needed. From water extraction and structural drying to mold remediation and decontamination, our team has the expertise and equipment to handle any size disaster.
Contact Swept Away Restoration for Safe and Effective Home Flood Cleanup!
If your home has been affected by a flood, contacting Swept Away Restoration is your best decision. They specialize in home flood cleanup and have years of experience restoring homes to their pre-flood state. Whether it's a minor or significant flood, they have the tools and techniques to ensure your property is clean and dry.
Our professionals is available 24/7 to respond quickly to emergencies, so you can return to your routine as soon as possible. Contact Swept Away Restoration today for professional water damage assessment services and get your home back to pre-loss condition as quickly as possible.
Or fill out the compact form below, and one of our staff members will contact you. In addition, you can check customer reviews on Google.

Fill in for a Direct Response