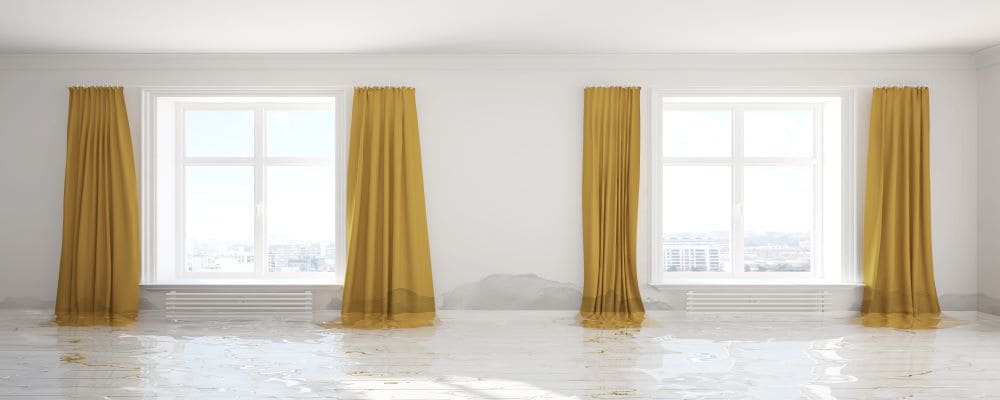 Homes and personal items can sustain significant damage from water. Over time, soaking into a house's or building's structures and components lead it to peel away at the surfaces, resulting in cumulative damage.
Water can be produced by violent storms, sewage leakage, damaged pipes, flooding, leaks, and other problems. It may not be pleasant to smell the odor that results from water damage.
If your home sustains water damage, take some simple safety precautions. Here is some advice on how to handle water and water damage carefully. Then, it's time to call Jackson County home water damage restoration professionals after you feel you have everything under control.
Jackson County Homes Flood Damage Restoration
Seasonal water damage happens, and most people strive to be ready for it. Another source of flooding is a faulty water line inside the house or nearby. But once more, when the flood is brought on by something other than weather, it is simpler to forecast.
Before attempting to access lower electrical outlets, please turn off your water supply as soon as you know of a leak.
Ensure there are no valuable items or plugged-in equipment in the basement or ground floor. It would help if you had the help of Swept Away Restoration, the neighborhood flood damage restoration professionals, before mold even grows.
Storm and Rain Ruins Homes
Storms and flash floods can bring on unpredictable flooding. If your area has a history of heavy seasonal rainfall leading to catastrophic flooding, it is preferable to be proactive and prepared. Use particular caution and vigilance if you live close to lakes, rivers, or other bodies of water.
By cleaning your basement and bottom floor, you can lessen property damage. By ensuring that your roofing system, including drainage pipes, is complete and free of holes and leaks, you may also prevent rain and storm damage. Minor leaks in the roof could swiftly develop into large holes and downpours.
Unfortunately, rainwater can cause issues even when homes are ready for heavy rain. The walls, tiles, and ceilings of the house could get wet if water leaks from the upper levels. These are hazardous because water can access electrical networks. Damp surroundings and electronics don't mix well.
During a violent storm, turn off your breakers early and make your virtual objects immediately. Pooled areas should be mopped before cleaning. Then, before more damage is done, Swept Away flood water cleanup can dry out your house and remove the water.

Get Help From Jackson County Home Water Damage Restoration Experts
Your property may sustain significant water damage from flooding, rain, and leaks. In addition, most of your possessions and interior components could be destroyed upon contact.
With very little water or moisture, it can enter electrical systems and produce electric shock fields. If you act promptly, you can limit the harm that will be done to your home and all you value.
If you need emergency help or your carpet looks the best, you can contact Swept Away for a free estimate.
When you need a 5-star service? Then, you've come to the right place. We offer water damage restoration & carpet cleaning in Medford, Jacksonville, Jackson County, and Ashland.
Alternatively, you can fill in the compact form below for a staff member to be in touch. In addition, you can check our customer reviews on Google.

Fill in for a fast response