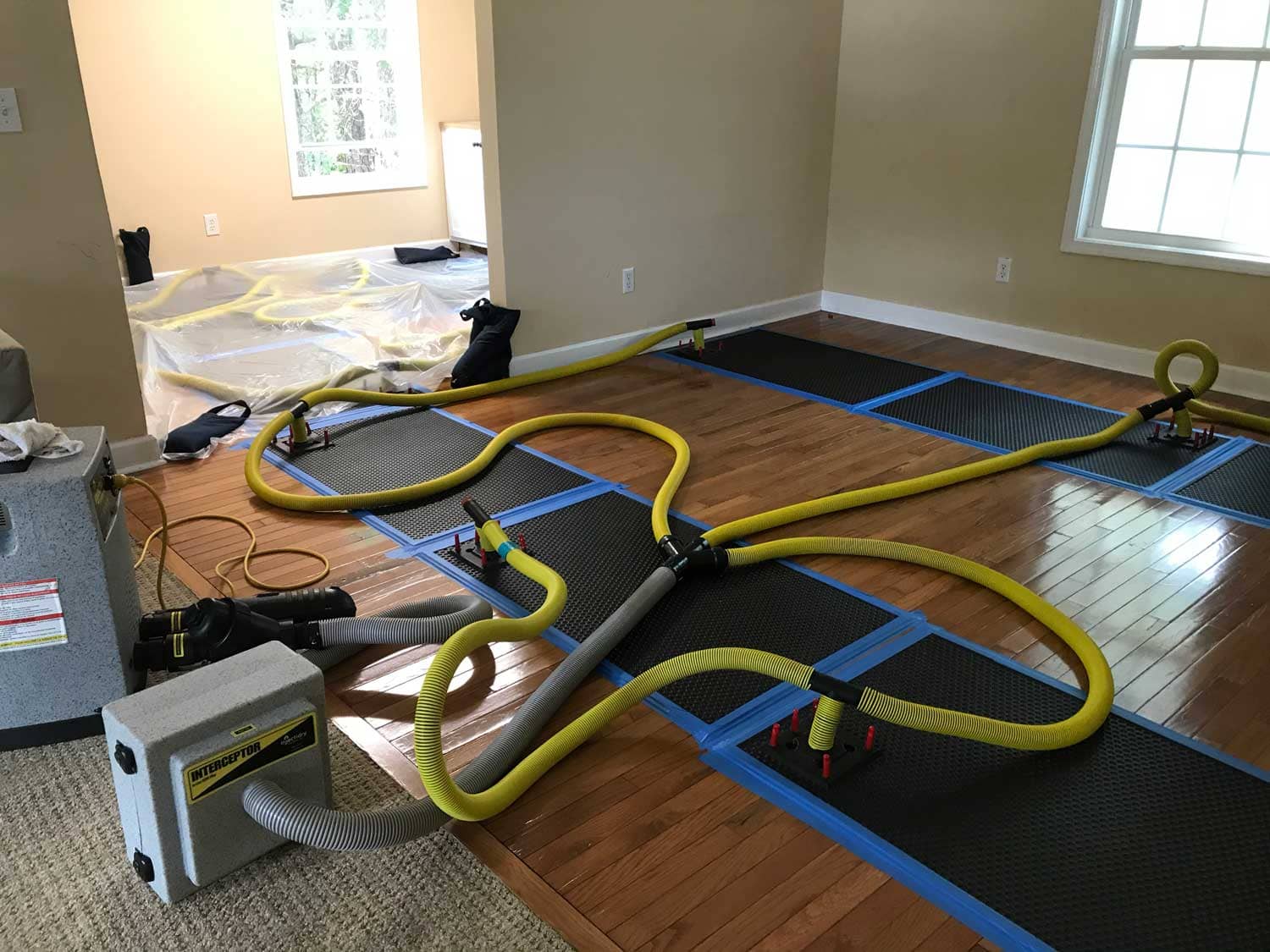 The basement is the most likely part of a home to flood for several reasons. To begin, seepage and foundation faults make basements particularly vulnerable to flooding during severe rain and natural flooding.
Basements can become flooded for reasons other than rain or snowmelt, such as when pipes burst, sewage backs up, or a significant leak in an appliance like a water heater or washing machine.
Substantial basement flooding causes extensive damage to your flooring, building materials, and possessions. It can also lead to mold and mildew, which are hazardous to your health.
Experts in Ashland flooded house cleanup will be required once this occurs. Below are the primary procedures followed by Swept Away Restoration and similar businesses.
Ashland Home Repairs Need To Find Leak Source
The first order of business in dealing with basement flooding is identifying and fixing the source of the problem.
The specialists at Swept Away will fix the problem and devise a restoration plan based on the extent of the flooding and damage after the root cause has been determined.
They will act and take precautions if sewage or other biohazardous materials are involved in the flooding.
Notify Your Insurance Company.
Insurance payouts for flood damage are conditional on several factors, including the flood's underlying cause.
Experts in the field of damage restoration will report their findings to your insurance company so that you can discuss coverage options. Swept Away Restoration has relationships with numerous area insurance, making filing a claim easy.
When do you require first-rate assistance? Then you've stumbled upon the correct webpage. Our response time for flood damage restoration and carpet cleaning in Jacksonville, Ashland, Jackson County, and Medford is typically less than an hour.
Let's Get Started Cleaning Up Flood-Damaged Homes
Reliable restoration companies begin fixing water damage after conducting an inspection. There shouldn't be a long delay between the initial assessment and the beginning of repairs.
Disposal Of Water
Experts in flood damage restoration employ dehumidifiers and other equipment mounted on trucks to extract water and moisture from ruined flooring, furniture, and other goods. Experts in this field can also repair any damage caused by the influx of water.
Installing Trim, Drywall, And Insulation
Sheetrock and baseboards can bloat and buckle if they collect even a small amount of water. It's possible that the insulation and the wall's framework could be damaged. Restorers will take care of the removal and any salvageable things.
Cleaning And Sanitizing
Mold growth can be encouraged by the presence of pathogenic bacteria that are likely to be present in flood water. Therefore, restoration specialists will clean and disinfect the area and any damaged items when the water has been removed using cutting-edge cleaning chemicals.
Basement Flood Drying
Once the floodwater is gone, restoration experts dry the wet items using cutting-edge drying technology.
They set up dehumidifiers, air scrubbers, and air movers around the affected area to eliminate the stale air and unpleasant smells—the time required for drying ranges from three to five days.
Since basements are often flooded, mold is a common problem. Restoration companies with a good reputation will check for mold and cure it if they find any.

Cleanup Required After House Flooding: Repairing Ashland's Flooded Basements
After thoroughly cleaning and drying the basement, the repair specialists will inspect the structural damage and work with your insurance company to devise a restoration plan.
After a thorough cleaning and repair, your basement will look as good as new. If you come down to a flooded basement after heavy rain, don't hesitate to contact Swept Away Restoration for assistance with the cleanup process.
To put it another way, the longer you wait, the more water can leak into the broken parts, increasing the risk of mold and mildew growth.
If you need emergency help and want your home back to a livable condition, contact Swept Away for a free estimate.
Alternatively, you can fill in the compact form below for a staff member to be in touch. In addition, you can check our customer reviews on Google.

Fill In For A Quick Response