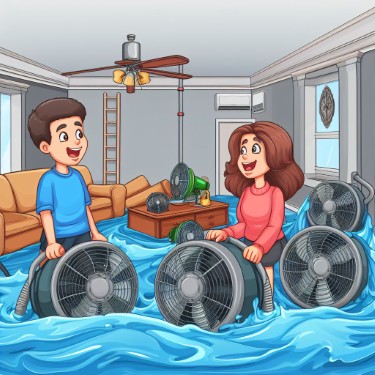 Are you grappling with water damage in your Ashland, OR, home? Don't fret; Swept Away is here to assist you in evaluating the extent of the damage.
When you contact us, our certified and experienced team will be by your side, guiding you through the process. With over 25 years of hands-on experience, Joanna, the owner of Swept Away Restoration, is a water damage restoration expert. She holds an IICRC certification as a master carpet and upholstery cleaner and has been in this field since 1998.
Let us ease your water damage worries in Ashland, OR.
Why Do Professional Water Damage Services Matter?
Regarding assessing water damage in Ashland, OR, it's best to rely on professional services. When your home experiences water damage, it's crucial to have experts properly assess the situation.
Professional water damage services have the knowledge, skills, and equipment to determine the extent of the damage accurately. A thorough inspection of your property will be conducted, checking for hidden or structural damage that may not be apparent. This assessment is crucial for developing an effective plan for water damage restoration.
How Swept-Away Restoration Helps Assess Water Damage Extent
Swept Away Restoration offers expertise in assessing the extent of water damage in Ashland, OR, ensuring a thorough evaluation of the situation. Our trained technicians have the knowledge and experience to determine the damage and develop an appropriate restoration plan accurately. Using advanced equipment and techniques, we can identify hidden water pockets, measure moisture levels in walls and floors, and assess the structural integrity of your property.
We understand the importance of a timely response in mitigating further damage, so we strive to promptly assess the extent of the water damage and provide a detailed report. We serve you by providing accurate information and recommendations to help you make informed decisions about the restoration process.
Benefits of Hiring Swept-Away Restoration for Home or Business Floods
When facing a home or business flood, hiring Swept Away Restoration brings many benefits. Our certified and experienced professionals will provide exceptional service to restore your property. We understand the importance of serving others and strive to exceed your expectations.
By choosing Swept Away Restoration, you can expect prompt and reliable help during this challenging time. Our trained technicians have received certification from the IICRC, ensuring they have the knowledge and expertise to handle any flood restoration job. We'll assess the damage, develop a comprehensive plan, and execute it efficiently to minimize further damage.
With our state-of-the-art equipment and techniques, we'll restore your home or business to its pre-flood condition. Trust Swept Away Restoration to handle your flood restoration needs with precision and care.

Fix Water Damage In Your Home or Business in Ashland, OR
Last but not least, regarding assessing the extent of water damage in your home or business in Ashland, OR, Swept Away Restoration is the trusted choice. Joanna, a specialist in water damage restoration, will lead our qualified and experienced team in guiding you through the procedure with accuracy and expertise.
Don't let water damage bring you down. Contact Swept Away Restoration for premier water damage repair. We're available 24/7 to rescue your home from flooding. Act now to reclaim your refuge; the best deal is a call away. Reach out to Swept Away Restoration today! In addition, you can check out customer reviews on Google. Remember, 'A stitch in time saves nine.'

Fill in for a fast response